NEW PRODUCT ALERT
Flexible Ice Coating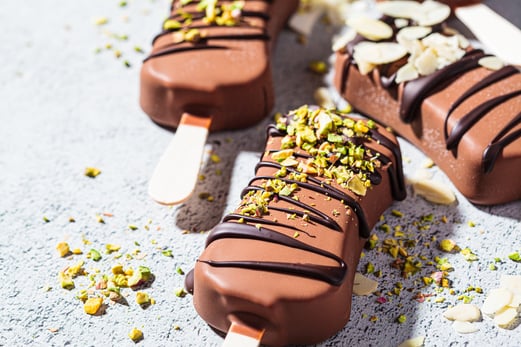 Why Use Flexible Chocolate Coating?
Since the pandemic, a growing number of consumers are getting more eager to experience new sensations. Our flexible chocolate coating presents a new experience for consumers.
To counter brittle hard coating that cracks and easily falls apart when eaten, our flexible coating can be easily bitten into, while maintaining the chocolate's shape without breaking apart in your hand giving your ice cream product a lasting visual appeal. This creates a pleasant sensation where consumers can taste both the chocolate and the ice cream until the last bite, made possible by a well-balanced formulation of fats and liquid oil.
Flexible Ice Coating
Our compound chocolate ice coating is created to meet that demand. Download our product sheet now to learn about:
1. The benefits of this product & how it can be applied
2. What type of businesses are best suited for this product
3. Details on the product such as packing and weight information
Download our product sheet and learn more about how your food manufacturing company, fast food business, or ice cream company can utilize this brand new product.
Fill Out the Form Below to Get the Product Sheet
About PT. Freyabadi Indotama
Freyabadi is the largest chocolate manufacturer in Indonesia, with experience of over 27 years in producing compound & couverture chocolate. We help provide customizable chocolate in large volumes for confectionery, ice cream, industrial bakery and quick-service restaurant (QSR) industry across Asia, the Middle East and Africa.
For more information, visit our website.