Chocolate Manufacturing Company & Supplier
Ice Cream
Chocolate is among the top preferred ice cream flavours all over the world and Freyabadi Indotama has always been a consistent supplier of various leading ice cream companies, both in the domestic and international markets. Freyabadi Indotama's couverture and compound chocolate selections can support your ice cream products through it's versatile applications, whether you'd like to use it to flavor, dip or use as a topping.
Confectionery
Freyabadi Indotama aims to fulfill the needs of confectionery industry players and businesses, through high quality chocolate products. Various confectionery applications ranging from cake sprinkles, candy coatings to candy filling are made easier by using couverture and compound chocolate from Freyabadi Indotama.
Industrial Bakery & Pastry
The bakery and pastry industry is a dynamic sector that is growing at a fast pace. The need and familiarity of consumers that like to enjoy light yet nutritious meals is driving the demand for bread and bread based products. Freyabadi Indotama has worked closely, and supported many vendors within this industry for 25 years, and therefore has a very deep understanding with regard to these needs.
Quick Service Restaurants (QSR)
The demand for fast food (Quick Service Restaurants) continues to increase from year to year. To meet the needs of this industry segment, Freyabadi Indotama provides a premium quality range derived from the best chocolate blends. We also provide a modified chocolate formula to suit your particular fast food recipe, and can help to reduce production costs to increase efficiency.
To support business expansion and meeting market demand for chocolate, Freyabadi Indotama owns three factories that at times operate in three shifts to satisfy customer orders during peak times in Karawang and Surabaya in Indonesia, and in Rayong, Thailand. The factories are equipped with state of the art equipment and machinery that support the numerous chocolate production requirements of the market.
With a production capacity of up to 80,000 tons, Freyabadi Indotama has over 530 employees in Indonesia and Thailand equipped with the expertise and passion to produce the best chocolate products. To that end, Freyabadi Indotama is committed to providing a stimulating and safe working environment for our employees.
Freyabadi Indotama has a highly experienced research and development team that is ready to create custom chocolate products according to your business needs.
Our West Java factory has obtained safety, protection and product quality standards and certifications. For more information, please visit our Standards & Certifications page by clicking here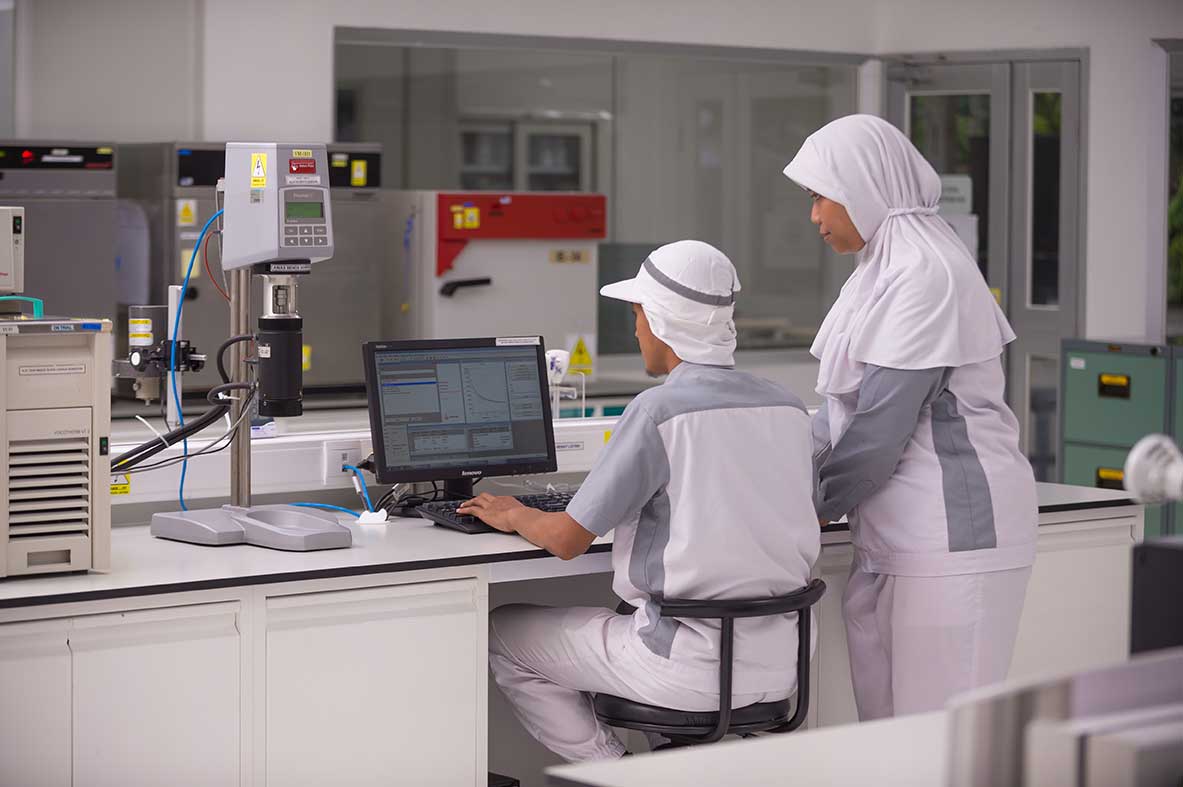 Our Services
Helping our clients create custom chocolate for any product application.