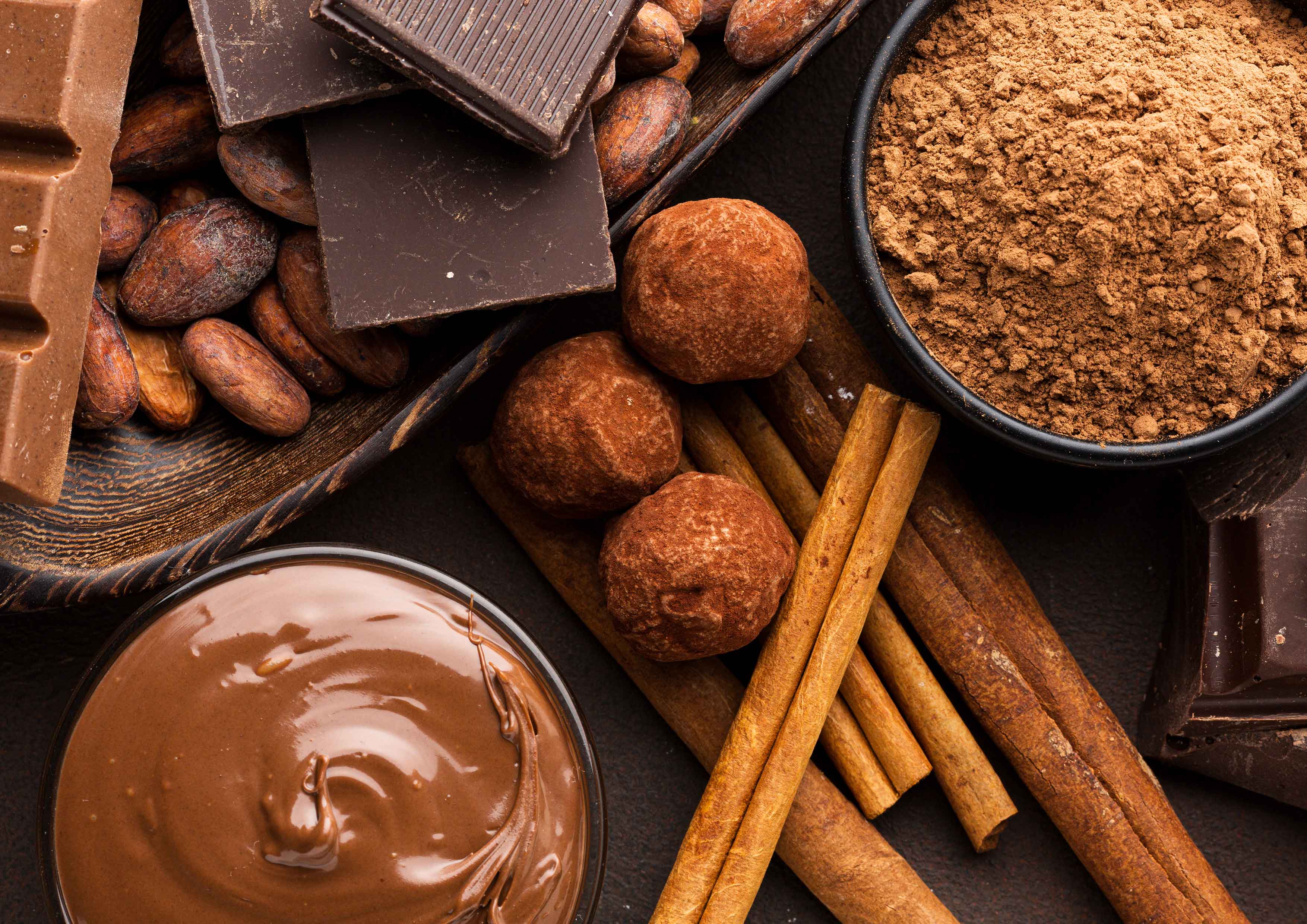 Compound chocolate is one of the most commonly used types of chocolate used in the manufacturing of food products, whether it's in the bakery, pastry, snack, ice cream, or confectionery industry. However, do you know what compound chocolate really is? And how is it different from real or regular chocolate? Check out this article to find out more.

1. Composition
The main difference between compound chocolate and real chocolate lies in the composition. Real chocolate is made of cocoa mass and cocoa butter, while compound chocolate is made of cocoa powder and vegetable fat.
According to FAO, for a product to be categorized as real chocolate, it has to contain a minimum of 35% total cocoa solids and 18% cocoa butter. Cocoa mass is made from cocoa nibs that are ground to form a thick paste. Cocoa mass is also often called cocoa paste or cocoa liquor, but don't worry, it does not contain any alcohol.
Meanwhile, cocoa butter is a fat naturally found in cocoa beans and is usually sold at a high price in the market for its uses in the cosmetics industry. There is also another type of chocolate called couverture chocolate, which contains more cocoa butter than real or normal chocolate. Couverture chocolate is required to have at least 31% cocoa butter, thus making it a more premium type of chocolate.
Unlike real or couverture chocolate, compound chocolate is made from cocoa powder and vegetable fat. Cocoa powder is made from cocoa mass that has been dried and ground, while the vegetable fat replaces some or all of the cocoa butter. The vegetable fats can be derived from palm, palm kernel, shea, or a combination of these oils. Real chocolate may also contain vegetable fat. The FAO allows real chocolate to contain as much as 5% vegetable fat.
The two major differences in the composition are what causes compound and real chocolate to have different properties.
---
Are you on LinkedIn? Do you want to receive the latest news and developments on chocolate in the confectionery, industrial bakery and ice cream industry?

---
2. Characteristics
The characteristics of chocolate are significantly determined by its fat content.
When properly tempered, the cocoa butter content in real chocolate provides properties that usually define chocolate: it doesn't melt easily at room temperature but melts in the mouth, has a glossy appearance, and has a 'snap' when the chocolate is broken. Cocoa butter also contracts when cooled, thus making demolding easier.
Compound chocolate is also influenced by the fat content in it. In this case, the characteristics of compounds, such as the texture, melting behavior, and melting point, depend on the type and composition of fats. By changing the type and composition, manufacturers can get a compound chocolate product that has different characteristics depending on the desired end product. For example, in tropical countries like Indonesia, chocolate manufacturers can create a compound chocolate product that does not melt at room temperature (28-30 °C), making it easier to distribute and display the products in stores.
At PT Freyabadi Indotama, we can provide compound and couverture chocolate according to your needs.
3. Handling
Besides the composition and characteristics, compound and real chocolate also differ in the way they are handled. Before it's used for several techniques such as dipping or coating, real chocolate and couverture chocolate needs to go through a tempering process. Tempering is the process of raising and lowering the temperature to form stable crystals in cocoa butter. Without this process, real chocolate will have a dull appearance, a shorter shelf life, and is difficult to work with.
Unlike real chocolate, most compound chocolate does not need to go through a tempering process. Compound chocolate only needs to be melted at a temperature of 35-37 °C, and then it can be used immediately. However, there are some exceptions. As compound chocolate can be made with different vegetable fats with different properties, vegetable fats that have similar properties to cocoa butter may require the compound chocolate to be tempered.
In the end, the choice to use real chocolate or compound chocolate depends on the product you want to make.
If you are in need of chocolate to your desired specifications or would like to get a consultation regarding the right chocolate for your product, please click the button below to contact us. Our consultants will be happy to assist you.
PT Freyabadi Indotama is one of the largest chocolate manufacturers in the Asia Pacific. With over 25 years of experience, we have helped ice cream, confectionery, industrial bakery, and quick service restaurant (QSR) industry players across the Asia Pacific, Middle East and African region. We produce dark, milk, white and strawberry compound chocolate in the form of blocks, coins, chips/drops, chunks, filling paste and sticks. We also have a line of couverture chocolate ranging from dark, milk to white couverture chocolate products. With cutting-edge technology and an experienced R&D team, our products can be customized to your needs.