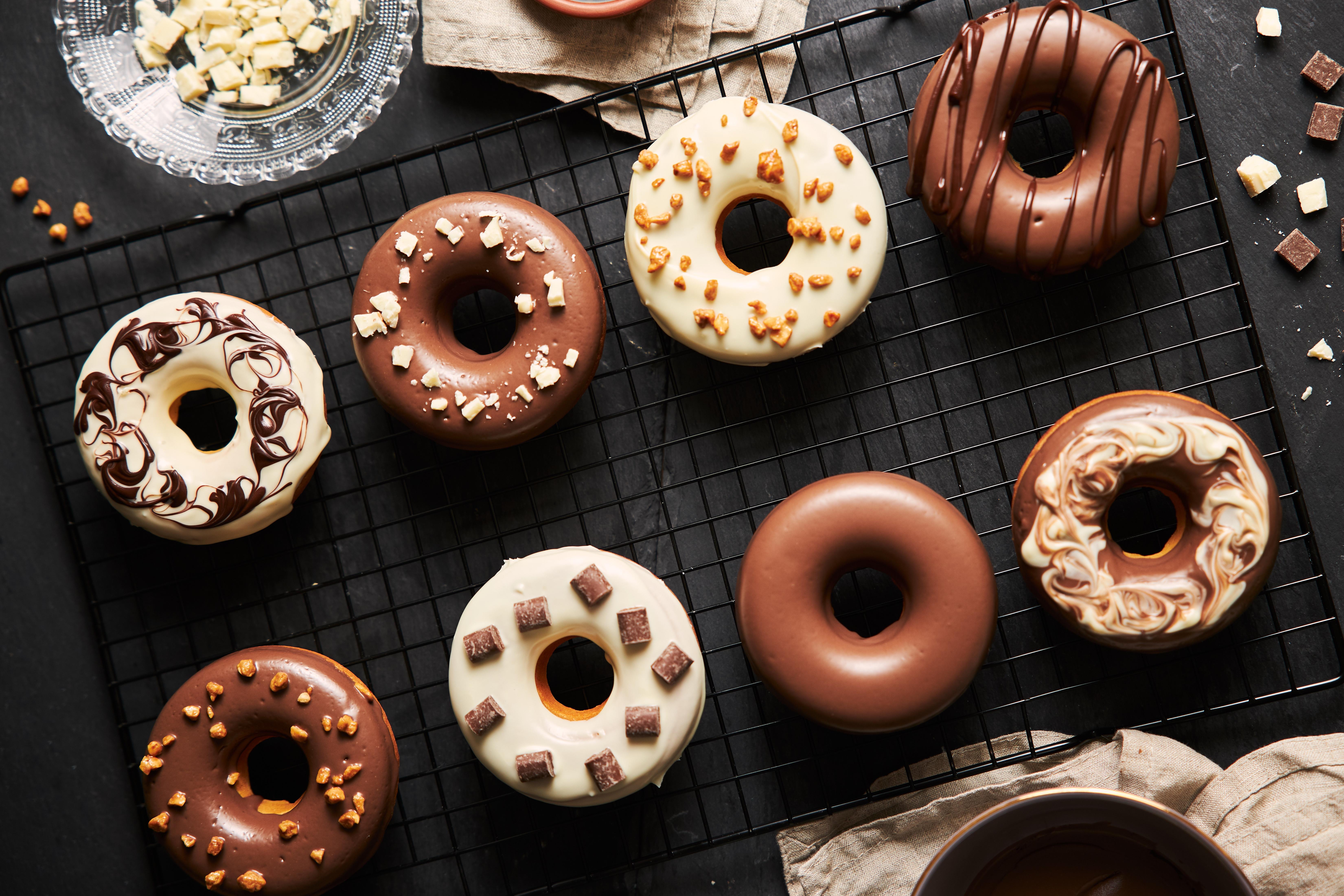 Donuts are one of the treats that can be eaten anytime and anywhere. According to a survey from Dawn Foods, 87% of people eat donuts in the morning, 38% in the afternoon, 33% in the evening, and 23% late at night. They're also ideally suited for multiple foodservice segments, such as convenience stores, schools and universities, healthcare, hotels, cafés, and catering.
With the variety of roles and dayparts, consumers have a wide range of taste and texture preferences. And with that comes the rise of businesses and companies aiming to meet the demand. This creates high competition among brands.
Like any other industry, product innovation is essential to be able to keep growing your business. Here are some ideas to make your donut product stand out from the crowd.
Experiment with Flavors
Flavor is a big factor in donut sales. The ring serves as a blank canvas that provides endless possibilities for flavor combinations, and according to GlobalData, 49% of millennial and Generation Z consumers like to try new and unusual flavors. This presents a big opportunity for your company.
Put a twist on the classics
The creation of interesting flavors can start by bringing a twist to the classic flavors. An example would be to modify salted caramel flavor to miso caramel, adding umami and saltiness to the sweetness of caramel.
You can also elevate the all-time classic chocolate donuts with our Chocolate Hazelnut Topping, adding another dimension with its nutty and buttery notes while giving it the perfect glossy appearance.
Introduce international flavors
As consumers spend a lot of time at home during the pandemic, they resort to food to break the monotony. Taste exploration becomes one of the emerging trends. To entice curious consumers, you can add international flavors like adobo, black garlic, hibiscus and tahini to your donuts.
Note that the level of adventure depends on the consumer. Some crave authentic representation of international cuisines, while others prefer to dip their toes in unfamiliar tastes through approachable and familiar formats.
Come up with unusual tastes
Aside from unfamiliar spicy flavors like ghost pepper and sweet-spicy combinations like hot honey, donut companies are innovating with novel flavors such as cucumber, mint and key lime.
Donuts with key lime icing from Duck Donuts (source)
There is also an increase of dessert-inspired flavors such as brownie, apple pie, fudge, churro and s'mores. In addition, fantasy and mystery flavors are showing up. Flavors like mermaid, unicorn and dirt pique consumers' interest with their fun interpretation.
Appeal with Appearance
The snacking and bakery consumption behavior is changing from mostly routine purchases to more indulgent treats. Consumers want products with a multi-sensory appeal, starting from aroma, color, texture, to flavor. And with a lot of people making purchases online from home, the saying "you eat with your eyes" has never been truer.
It's important to make sure that your donut not only tastes good, but also has the appearance that will attract consumers to your brand. This can be done by using fun toppings and decorations and giving customers the option to have premium ingredients in their order. You can even come up with 'gourmet' donuts to create unique experiences.
---
Are you on LinkedIn? Do you want to receive the latest news and developments on chocolate in the confectionery, industrial bakery and ice cream industry?

---
Give a Limited-Time Offer
Limited time offers (LTOs) are known to boost sales, but it's important to know how to do it right. To transform your offering to become more exciting and relevant, seasonality is the key. This goes beyond holiday-themed products or anniversary specials. There are distinct flavors that consumers associate with and look for depending on the season and the weather, mood and seasonal fruits tied to those seasons.
Companies also need to pay attention to the duration of the offer itself. Research from Psychology Today shows that the stronger the brand, the shorter a limited-time offer can be. For a company that is just beginning to offer seasonal products, or hasn't had a strong social media presence, it's best to stick to two- to three-week promotions. This will help customers to start associating you with seasonal products and give more time for words of mouth to spread. If you already have an engaged social media following, offers can span between days.
A successful example is The Donut Man, which is known for its strawberry-stuffed donuts that can only be purchased during the season. Customers who come to the Californian donut shop are even encouraged to call ahead of time to ensure the availability of the limited-time item.
Strawberry Donuts from The Donut Man (source)
Provide Permissible Indulgence
A trend that has been prevalent is the notion of "permissible indulgence." This can come in the form of portion control and the addition of functional ingredients, among others. If people are going to indulge, they want something in the product to feel good about.
Products that come in mini-size provide consumers with more opportunities to try new and innovative products. As for health-conscious consumers, portion control gives them the option to indulge without worrying too much about their health.
In addition, altering the composition of your donut product to include functional ingredients can also support consumers in their health journey. You can opt for whole wheat flour instead of white flour for additional fiber, or add multigrain such as oats, barley and flax. Meanwhile, adding seeds and nuts as part of the dough or as a topping will add the amount of protein to your product.
Go with Single-Serve
In Covid-19 times, it becomes apparent that hygiene and safety are non-negotiable. Consumers demand companies to pay more attention to the protocols in which products are manufactured, and they try to avoid foods that require a lot of physical contact in their preparation. To meet the demand, manufacturers can come up with safe, user-friendly packaging such as single-serve.
The Donut Hole Individually Wrapped line from Baker Boy is a great example. The single-serve donuts arrive at the operator frozen and ready to thaw and serve. They also provide a mostly transparent packaging to showcase the donuts, as well as retail-ready essentials such as Nutrition Facts, ingredient information and scannable UPCs for each donut.
The Donut Hole Individually Wrapped from Baker Boy's The Donut Hole brand (source)

Those are some ideas for you to innovate or add to your donut products in line with current trends. If you are looking for an ingredient that can add on to the flavor and appearance of your donut product, take a look at our Chocolate Hazelnut Topping. It is an oil-based, semi-liquid topping that goes perfectly on donuts. Download our 1-page product sheet to learn more about the benefits and applications of our Chocolate Hazelnut Topping.
Who is Freyabadi Indotama?
Freyabadi Indotama is a chocolate manufacturing company with over 25 years of experience that produces compound and couverture chocolate in various shapes and forms. We serve food manufacturers that operate in the confectionery, ice cream, industrial bakery, and quick service restaurant (QSR) industry throughout the Asia-Pacific, Middle East and African region.