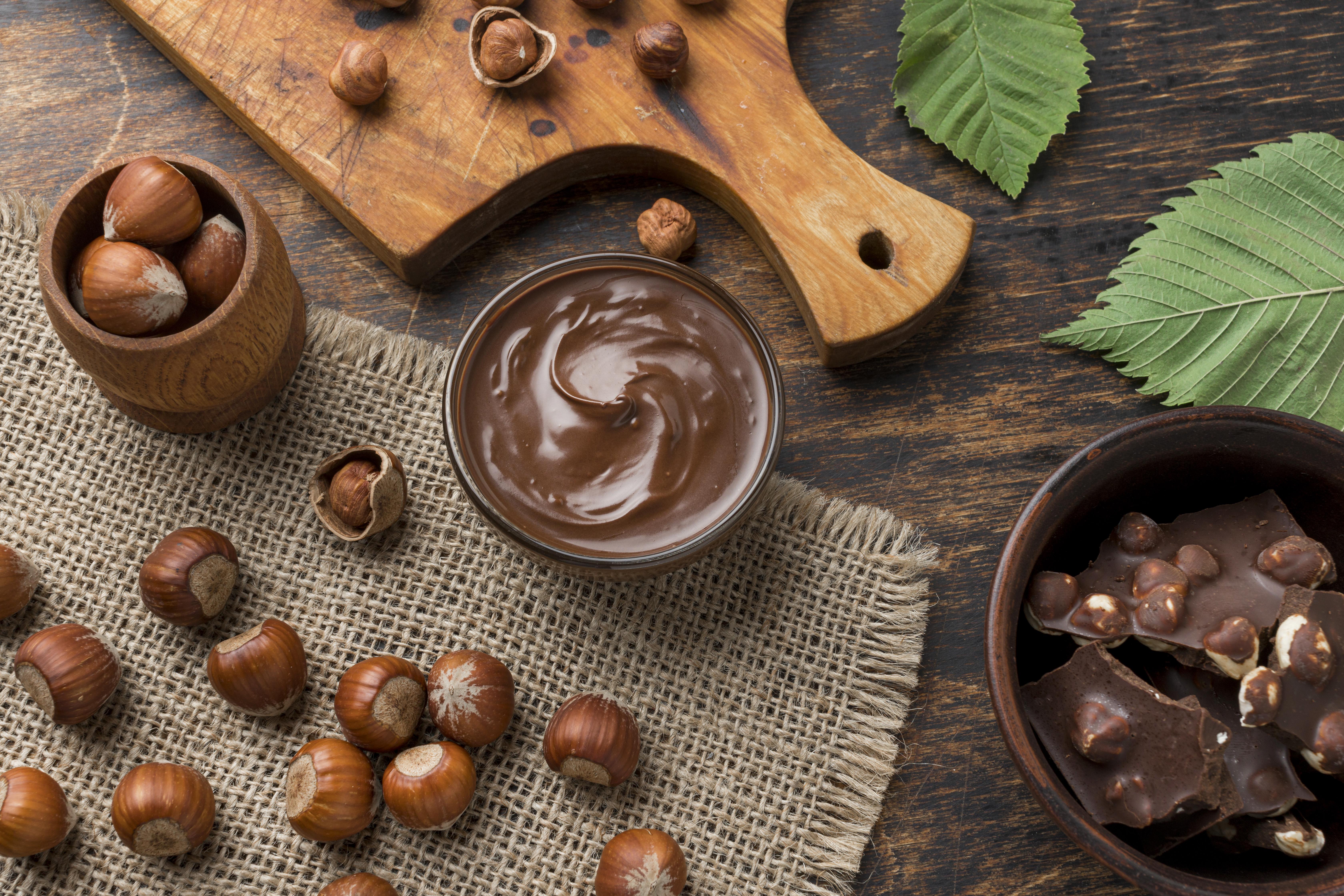 If you work in the food manufacturing, industrial bakery or quick service restaurant industry, you may be wondering if a hazelnut product is right for your company. Throughout this blog, we will share data that will help you take a step closer to making this decision.
A global trend
In the global market, chocolate hazelnut products are on the rise. In 2020, the popular hazelnut spread Nutella had five of its product ranked in the top 10 grocery items in France (apart from wine), with its 1 kg jar placing first, outranking butter, black coffee, and toilet paper. Currently, France is the 8th largest hazelnut producer in the world, with the biggest producer being Turkey, responsible for some 70% of the world's hazelnut production, followed by Italy. France is also looking to increase its hazelnut production to meet the high and growing demand; hazelnut producer Koki is looking to triple its production by 2030.
America is the 4th largest hazelnut producer, and they too are looking to increase their production. From 30,000 acres in 2012, Oregon hazelnut producers (who account for 99% of the country's production) were successful in raising it to 85,000 acres in 2019, resulting in a record crop in 2018 of about 50,000 tons. At the current pace of expansion, Oregon hazelnut orchards are looking to triple in size to 80,000 acres in mature production by 2024.
With the expansion of hazelnut orchards across its producers around the world, things are looking good for the future of hazelnuts. The global hazelnut consumption is projected to grow at a CAGR of 10.1% during the forecast period (2020-2025), and while the Middle East and Africa are forecasted to remain as the largest market for hazelnut at 40.7% of total market share, Asia-Pacific is expected to register high growth rate as well. This is due to the rise in disposable income and increased westernization in dietary habits of the people, especially in the developing countries of APEJ (Asia-Pacific excluding Japan) such as India and China.
---
Are you on LinkedIn? Do you want to receive the latest news and developments on chocolate in the confectionery, industrial bakery and ice cream industry?

---
So why is hazelnut trending?
A major driver behind the expected growth in hazelnut sales is the chocolate category. From the total consumption of hazelnuts, 90% are used in confectionery as a side-ingredient in chocolate, biscuits and sweets.
If we take a look at Nutella, a big part of why it's so popular is because it evokes a sense of nostalgia. The hazelnut spread is a common post-school snack for children especially in Europe, spread over tartines (slices of bread). When they grow up, they enjoy eating it as comfort food. And during the pandemic, the trend toward nostalgic flavors isn't going away, as consumers continue to seek comfort from food and beverages.
Another factor is because it introduces a new flavor to the usual chocolate products. Millennial consumers in particular love to try new flavors, and hazelnut is a versatile ingredient that can be applied to sweet and savory dishes alike, from simple dishes like sandwiches and salads to complex desserts and chocolates. Its application in sweet dishes goes well beyond bread and crepes: calzones, bombolones, ice creams, donuts, croissants, milkshakes, and so on. In Indonesia, the chocolate-hazelnut combination raised to popularity when incorporated in dishes like martabak and toast.
Hazelnut is also famous for its health benefits. Compared to other tree nuts, they contain the highest in folate at 8% of the daily value per serving and a high amount of dietary fiber at 2.7 gr per ounce. Consumers seem to pick up on this too, as the results of a 2017 survey revealed 47% of people thought the nuts were "very healthy", nearly twice the number from 2006 at 24%. As more people continue to look for healthier food choices, catalyzed by the pandemic, tree nuts like hazelnut is looking to rise in popularity as well.
How you can take this opportunity to leverage your business
The nutty, buttery flavor of hazelnut comes out as an innovation in the global confectionery market. A lot of chocolate manufacturers are beginning to use hazelnut to re-introduce their signature product lines, like Lindt with their chocolate spread, and M&M's with their chocolate candies. Manufacturers have also taken notice of this trend and responded with hazelnut milk, hazelnut spread, hazelnut-flavored coffee, and chocolate bars with hazelnuts.
In a survey conducted by Northwest Hazelnut Company in the U.S., results showed that consumers were interested in seeing hazelnut incorporated in mixed nuts or trail nuts, baked goods (cookies, muffins or bread), chocolate bars or candy, fruit and nut bars, salad dressings, and granolas or cereals. As for hazelnut flavor combinations of interest, it was chocolate, caramel, coffee, vanilla, sea salt, and coconut, respectively.
PT Freyabadi Indotama is a chocolate manufacturer with over 25 years of experience in supplying large volumes of chocolate products to clients around the Asia-Pacific region as well as providing fully customized chocolate manufacturing solutions for some of the largest ice cream and confectionery brands in the world. We specialize in both compound and couverture chocolates and can produce them in paste, syrup, coin, block, stick, chunk, and chip form. We also produce two lines of foodservice chocolate brands: Tulip Chocolate and Embassy Chocolate.
Recently we have launched our Chocolate Hazelnut Topping, an oil-based liquid topping – the first of its kind in the Indonesian market. It sets slowly, stays soft inside and on top of cold desserts, and has a glossy finish, making it the perfect topping for your ice cream, sundae, frozen yoghurt, pancake, waffles, and hot and cold dessert products.
We've created a 1-page product sheet containing all the benefits, applications and details of our Chocolate Hazelnut Topping. Download it to see how this can benefit your company.